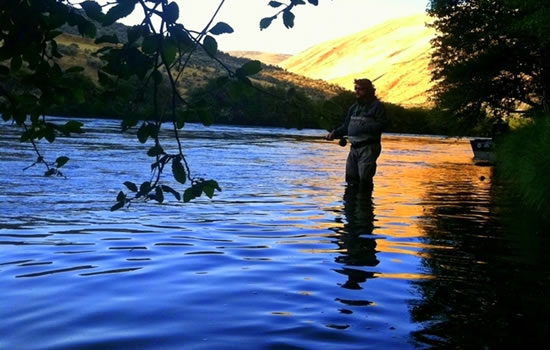 You've got your spey in hand, that rod that can cast great gobs of line, and you can hardly wait to start bombing casts way out to that place where the fish are. You step into the tip of the run and start haphazardly tearing off line and while you do, your fly is swimming not more than 10 feet away from you and it gets hammered by a fish. Chances are, you lost that one because it could not have been a bigger surprise. Does this sound familiar? If not, just wait… It happens with some regularity.
Fish are not always way out in the river. In fact, there are portions of the river, usually in the middle, where the current is most rugged, that are mostly void fish. Fish don't want the struggle of fighting that type of current. And remember, people have been catching steelhead on single hand rods for many generations before spey took hold in this country. So what's my point? Well my point is to fish short before trying to cover an entire run with long casts.
I cannot count the amount of times that I have witnessed fish hooked on short casts. Often, the groovy, relaxing-type water where steelhead want to lay up is not more than a few feet from your rod tip. Of course, certain types of water call for certain approaches, but that said, most traditional steelhead runs can be tackled in both a long and a short fashion. Simply trying to cover outer and inner portions with one, long cast is not nearly as effective as tackling it with two separate lengths of line.
Why? Well action of the fly is hugely determined by how much line is outside the rod tip. First, the longer the line, the less control you have over the drift. Essentially, long casts tend to span many different current types. By spanning vastly different water types, it becomes increasingly more difficult to keep your fly arcing in a smooth, deliberate manner. Your fly could be swinging well at the beginning of the drift, but then it may become a squirrely mess by the time it finally reaches the actual hold. Casting long lengths of line takes some serious line control and some very keen insight to keep it fishing well enough throughout the swing. But even with serious negotiation, that fly of yours will lose life towards the last third of the swing. You see, the length of line also determines the amount of slack present from fly to rod tip, as well influencing the amount of energy focused at the fly. Think of tether ball… the ball will move more rapidly around the post on a short line. This is also true for your presentations with yourself being the fulcrum. In most situations, we need that fly to maintain speed and motion during the last third of the swing, but long casts will see the fly start to halt too soon. Although I have been writing this mainly from a dry line standpoint, this is even more important when fishing sink tips. Your drift will die or lose momentum much sooner when fishing tips.
Fishing short is especially important during early morning hours. Fish that are traveling at night and want to settle down have no problem pulling in tight to shore and laying up for the night. Another scenario where fish can be holding near your boot laces may be during the high sun where they pull into the very top of a riffle seam under the cover of some nice surface chop. But then, these are high likelihood scenarios. The fact remains that steelhead can be caught very close to shore while fishing many different pieces of water. This is true because this is where current speed is often most forgiving and comfortable.
So if you have the time, try fishing through the run with a short line before going through again with a longer cast. If there are two people, have the first angler wade shallow and cast in tight, while the angler who follows, takes a deeper wading line and covers the water further out into the river. By really dedicating yourself to certain piece of water in this fashion, you will be presenting your fly to each hold and each fish in the most enticing way possible. Not only are you more likely to hook-up, but you are more liable to learn where they live for the days ahead. Remember, a shorter line means more control over your presentation, and more focused energy to work with. You could fish a large swath of water in ok fashion, or you could fish smaller portions and fish them really well. The way these fish are, I want to be fishing really well.
---